Product Summary
The TMP75AIDR is Two-Wire, serial output temperature sensor available in an SO-8 package. Requiring no external components, the TMP75AIDR is capable of reading temperatures with a resolution of 0.0625℃. The TMP75AIDR features a Two-Wire interface that is SMBus-compatible, with the TMP75 allowing up to eight device on one bus. The TMP75AIDR features an SMBus alert function. The TMP75AIDR is ideal for extended temperature measurement in a variety of communication, computer, consumer, environmental, industrial, and instrumentation applications. The TMP75AIDR is specified for operation over a temperature range of –40℃ to +125℃.
Parametrics
TMP75AIDR absolute maximum ratings: (1)Power Supply, V+: 7.0V; (2)Input Voltage: –0.5V to 7.0V; (3)Input Current: 10mA; (4)Operating Temperature Range:–55℃ to +127℃; (5)Storage Temperature Range: –60℃ to +130℃; (6)Junction Temperature (TJ Max): +150℃; (7)Lead Temperature (soldering): +300℃.
Features
TMP75AIDR features: (1)8 addresses; (2)digital output: two-wire serial interface; (3)resolution: 9 to 12Bits, user selectable; (4)accuracy: ±1.5℃ (max) from –25℃ to +85℃, ±2.0℃ (max) from –40℃ to +125℃; (5)low quiescent current: 50μA, 0.1μA standby; (6)wide supply range: 2.7V to 5.5V; (7)small SO-8 package.
Diagrams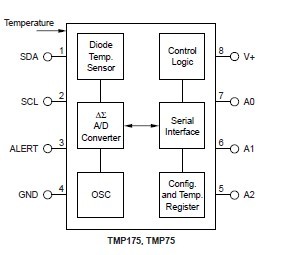 Image
Part No
Mfg
Description
Pricing
(USD)
Quantity

TMP75AIDR

Texas Instruments

Board Mount Temperature Sensors Digital w/2-Wire Ifc

Data Sheet



| | |
| --- | --- |
| 0-1: | $0.86 |
| 1-25: | $0.68 |
| 25-100: | $0.61 |
| 100-250: | $0.53 |


TMP75AIDRG4

Texas Instruments

Board Mount Temperature Sensors Digital w/2-Wire Ifc

Data Sheet



| | |
| --- | --- |
| 0-1: | $0.79 |
| 1-25: | $0.62 |
| 25-100: | $0.57 |
| 100-250: | $0.49 |