Product Summary
The BCX54-16 is a NPN medium power transistor. The NPN medium power transistor is packed in a SOT89 plastic package. PNP complements: BCX51, BCX52 and BCX53. The application of the BCX54-16 is: Driver stages of audio and video amplifiers.
Parametrics
BCX54-16 absolute maximum rating: (1)VEBO emitter-base voltage open collector: 5 V; (2)IC collector current (DC): 1 A; (3)ICM peak collector current: 1.5 A; (4)IBM peak base current: 0.2 A; (5)Ptot total power dissipation, Tamb: 25 ℃; 1.3 W; (6)Tstg storage temperature: -65 +150 ℃; (7)Tj junction temperature: 150 ℃; (8)Tamb operating ambient temperature: -65 +150 ℃.
Features
BCX54-16 features: (1)High current (max. 1 A); (2)Low voltage (max. 80 V).

Diagrams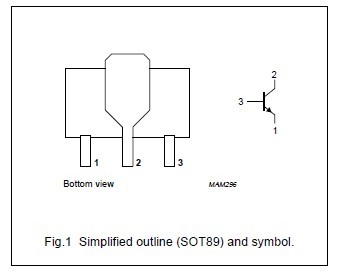 Image
Part No
Mfg
Description
Pricing
(USD)
Quantity

BCX54-16

Other



Data Sheet

Negotiable

BCX54-16,135

NXP Semiconductors

Transistors Bipolar (BJT) TRANS MED PWR TAPE13

Data Sheet



| | |
| --- | --- |
| 0-1: | $0.08 |
| 1-25: | $0.07 |
| 25-100: | $0.07 |
| 100-250: | $0.06 |


BCX54-16,115

NXP Semiconductors

Transistors Bipolar (BJT) NPN 45V 1A

Data Sheet



| | |
| --- | --- |
| 0-1: | $0.06 |
| 1-25: | $0.06 |
| 25-100: | $0.05 |
| 100-250: | $0.05 |


BCX54-16 /T3

NXP Semiconductors

Transistors Bipolar (BJT) TRANS MED PWR TAPE13

Data Sheet

Negotiable