Product Summary
The MC3403DR2G is a low cost, quad operational amplifier with true differential inputs. The device has electrical characteristics similar to the popular MC1741C. However, the MC3403DR2G has several distinct advantages over standard operational amplifier types in single supply applications. The quad amplifier can operate at supply voltages as low as 3.0 V or as high as 36 V. The output voltage range of the MC3403DR2G also includes the negative power supply voltage.
Parametrics
MC3403DR2G absolute maximum ratings: (1)Power Supply Voltages: Single Supply, 36V; Split Supplies, ±18V; (2)Input Differential Voltage Range (Note 1): ±36 V; (3)Input Common Mode Voltage Range (Notes 1 and 2): ±18 Vdc; (4)Storage Temperature Range: 55 to +125 ℃; (5)Operating Ambient Temperature Range: 0 to +70℃; (6)Junction Temperature: 150℃.
Features
MC3403DR2G features: (1)Short Circuit Protected Outputs; (2)Class AB Output Stage for Minimal Crossover Distortion; (3)True Differential Input Stage; (4)Single Supply Operation: 3.0 V to 36 V; (5)Split Supply Operation: ±1.5 V to ±18 V; (6)Low Input Bias Currents: 500 nA Max; (7)Four Amplifiers Per Package; (8)Internally Compensated; (9)Similar Performance to Popular MC1741C; (10)Industry Standard Pin-outs; (11)ESD Diodes Added for Increased Ruggedness; (12)Pb-Free Packages are Available.
Diagrams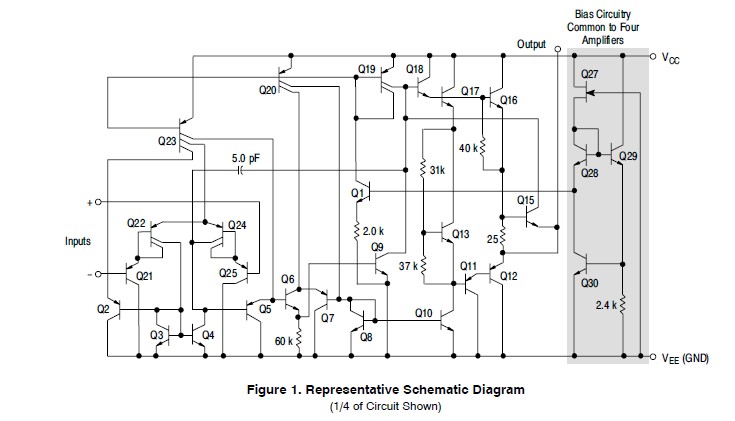 Image
Part No
Mfg
Description
Pricing
(USD)
Quantity

MC3403DR2G

ON Semiconductor

Operational Amplifiers - Op Amps 3-36V Quad 10mV VIO Commercial Temp

Data Sheet



| | |
| --- | --- |
| 0-1: | $0.32 |
| 1-25: | $0.29 |
| 25-100: | $0.23 |
| 100-500: | $0.19 |

Image
Part No
Mfg
Description
Pricing
(USD)
Quantity

MC34001

Other



Data Sheet

Negotiable

MC34002

Other



Data Sheet

Negotiable

MC34002D

STMicroelectronics

Operational Amplifiers - Op Amps USE 511-TL072CD SO-8 DUAL OP AMP

Data Sheet

Negotiable

MC34002N

STMicroelectronics

Operational Amplifiers - Op Amps USE 511-TL072CN DIP-8 DUAL OP AMP

Data Sheet

Negotiable

MC34004

Other



Data Sheet

Negotiable

MC34011A

Other



Data Sheet

Negotiable