Product Summary
The TLV320AIC3007IRSBR is a low power stereo audio codec with stereo headphone amplifier, and mono class-D speaker driver, as well as multiple inputs and outputs programmable in single-ended or fully differential configurations. Extensive register-based power control is included, enabling stereo 48kHz DAC playback as low as 15mW from a 3.3V analog supply, making TLV320AIC3007IRSBR ideal for portable battery-powered audio and telephony applications.
Parametrics
TLV320AIC3007IRSBR absolute maximum ratings: (1)AVDD_DAC to AVSS_DAC, DRVDD to DRVSS, AVSS_ADC: –0.3 to 3.9V; (2)SPVDD to SPVSS: –0.3 to 6.0V; (3)AVDD to DRVSS: –0.3 to 3.9V; (4)IOVDD to DVSS: –0.3 to 3.9V; (5)DVDD to DVSS: –0.3 to 2.5V; (6)AVDD_DAC to DRVDD: –0.1 to 0.1V; (7)Digital input voltage to DVSS: –0.3 to IOVDD+0.3V; (8)Analog input voltage to AVSS_ADC: –0.3 to AVDD+0.3V; (9)Operating temperature range: -40 to 85℃; (10)Storage temperature range: -65 to 105℃.
Features
TLV320AIC3007IRSBR features: (1)Stereo CODEC with Integrated Mono Class-D Amplifier; (2)High Performance Audio DAC; (3)High Performance Audio ADC; (4)Seven Audio Input Pins; (5)Multiple Audio Output Drivers; (6)Mono Class-D 1W BTL 8Ω Speaker Driver; (7)Low Power Consumption: 15-mW Stereo; (8)Ultra-Low Power Mode with Passive Analog Bypass; (9)Programmable Input/Output Analog Gains; (10)Automatic Gain Control (AGC) for Record; (11)Programmable Microphone Bias Level; (12)Programmable PLL for Flexible Clock Generation; (13)I2C Control Bus; (14)Audio Serial Data Bus Supports I2S, Left/Right-Justified, DSP, and TDM Modes.
Diagrams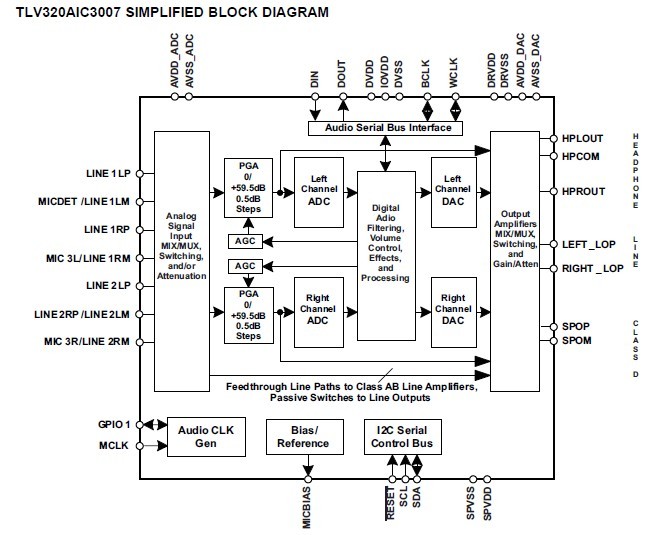 Image
Part No
Mfg
Description
Pricing
(USD)
Quantity

TLV320AIC3007IRSBR

Texas Instruments

Audio CODECs Lo Pwr St CODEC w/ Integr Class-D Amp

Data Sheet



| | |
| --- | --- |
| 0-2400: | $1.76 |
| 2400-3000: | $1.75 |

Image
Part No
Mfg
Description
Pricing
(USD)
Quantity

TLV3011

Other



Data Sheet

Negotiable

TLV3011AIDBVR

Texas Instruments

Comparator ICs Low Power Open Drain Output

Data Sheet



| | |
| --- | --- |
| 0-2410: | $0.51 |
| 2410-3000: | $0.50 |


TLV3011AIDBVRG4

Texas Instruments

Comparator ICs Lo Pwr Open Drain Output Comparator

Data Sheet



| | |
| --- | --- |
| 0-2410: | $0.51 |
| 2410-3000: | $0.50 |


TLV3011AIDBVT

Texas Instruments

Comparator ICs Low Power Open Drain Output

Data Sheet



| | |
| --- | --- |
| 0-1: | $1.21 |
| 1-10: | $1.09 |
| 10-25: | $0.97 |
| 25-100: | $0.65 |
| 100-250: | $0.64 |


TLV3011AIDBVTG4

Texas Instruments

Comparator ICs Low Power Open Drain Output

Data Sheet



| | |
| --- | --- |
| 0-1: | $1.21 |
| 1-10: | $1.09 |
| 10-25: | $0.97 |
| 25-100: | $0.65 |
| 100-250: | $0.64 |


TLV3011AIDCKR

Texas Instruments

Comparator ICs Low Power Open Drain Output

Data Sheet



| | |
| --- | --- |
| 0-2410: | $0.51 |
| 2410-3000: | $0.50 |