Product Summary
The MC9S12DJ128VPVE microcontroller unit (MCU) is a 16-bit device composed of standard on-chip peripherals including a 16-bit central processing unit (HCS12 CPU), 128K bytes of Flash EEPROM, 8K bytes of RAM, 2K bytes of EEPROM, two asynchronous serial communications interfaces (SCI), two serial peripheral interfaces (SPI), an 8-channel IC/OC enhanced capture timer, two 8-channel, 10-bit analog-to-digital converters (ADC), an 8-channel pulse-width modulator (PWM), a digital Byte Data Link Controller (BDLC), 29 discrete digital I/O channels (Port A, Port B, Port K and Port E), 20 discrete digital I/O lines with interrupt and wakeup capability, three CAN 2.0 A, B software compatible modules (MSCAN12), a Byteflight module and an Inter-IC Bus. The MC9S12DJ128VPVE has full 16-bit data paths throughout. However, the external bus of the MC9S12DJ128VPVE can operate in an 8-bit narrow mode so single 8-bit wide memory can be interfaced for lower cost systems. The inclusion of a PLL circuit allows power consumption and performance to be adjusted to suit operational requirements.
Parametrics
MC9S12DJ128VPVE absolute maximum ratings: (1)I/O, Regulator and Analog Supply Voltage, VDD5: -0.3 to 6.0 V; (2)Digital Logic Supply Voltage, VDD: -0.3 to 3.0 V; (3)PLL Supply Voltage, VDDPLL: -0.3 to 3.0 V; (4)Voltage difference VDDX to VDDR and VDDA, △VDDX: -0.3 to 0.3 V; (5)Voltage difference VSSX to VSSR and VSSA, △VSSX -0.3 to 0.3 V; (6)Digital I/O Input Voltage, VIN: -0.3 to 6.0 V; (7)Analog Reference, VRH, VRL: -0.3 to 6.0 V; (8)XFC, EXTAL, XTAL inputs, VILV: -0.3 to 3.0 V; (9)TEST input, VTEST: -0.3 to 10.0 V; (10)Instantaneous Maximum Current Single pin limit for all digital I/O pins, ID: -25 to +25 mA; (11)Instantaneous Maximum Current Single pin limit for XFC, EXTAL, XTAL, IDL: -25 to +25 mA; (12)Instantaneous Maximum Current Single pin limit for TEST, IDT: -0.25 to 0 mA; (13)Storage Temperature Range, Tstg: – 65 to 155 ℃.
Features
MC9S12DJ128VPVE features: (1)Memory: 128K Flash EEPROM; 2K byte EEPROM; 8K byte RAM; (2)Two 8-channel Analog-to-Digital Converters: 10-bit resolution; External conversion trigger capability; (3)Three 1M bit per second, CAN 2.0 A, B software compatible modules: Five receive and three transmit buffers; Flexible identifier filter programmable as 2 x 32 bit, 4 x 16 bit or 8 x 8 bit; Four separate interrupt channels for Rx, Tx, error and wake-up; Low-pass filter wake-up function; Loop-back for self test operation; (4)Enhanced Capture Timer: 16-bit main counter with 7-bit prescaler; 8 programmable input capture or output compare channels; Four 8-bit or two 16-bit pulse accumulators; (5)8 PWM channels: Programmable period and duty cycle; 8-bit 8-channel or 16-bit 4-channel; separate control for each pulse width and duty cycle; center-aligned or left-aligned outputs; programmable clock select logic with a wide range of frequencies; Fast emergency shutdown input; Usable as interrupt inputs; (6)Serial interfaces: Two asynchronous Serial Communications Interfaces (SCI); Two Synchronous Serial Peripheral Interface (SPI); Byteflight.
Diagrams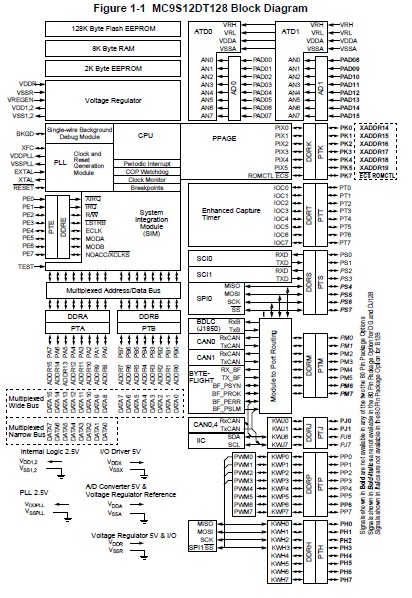 Image
Part No
Mfg
Description
Pricing
(USD)
Quantity

MC9S12DJ128VPVE

Freescale Semiconductor

16-bit Microcontrollers (MCU) 128K FLASH HCS12 MCU

Data Sheet


Image
Part No
Mfg
Description
Pricing
(USD)
Quantity

MC9S08AC128CFGE

Freescale Semiconductor

8-bit Microcontrollers (MCU) 8 Bit 128K FLASH 8K RAM

Data Sheet



| | |
| --- | --- |
| 0-1: | $2.56 |
| 1-25: | $2.32 |
| 25-50: | $1.99 |
| 50-100: | $1.61 |


MC9S08AC128CFUE

Freescale Semiconductor

8-bit Microcontrollers (MCU) 8 Bit 128K FLASH 8K RAM

Data Sheet



| | |
| --- | --- |
| 0-1: | $2.75 |
| 1-25: | $2.48 |
| 25-50: | $2.13 |
| 50-100: | $1.73 |


MC9S08AC128CLKE

Freescale Semiconductor

8-bit Microcontrollers (MCU) 8 Bit 128K FLASH 8K RAM

Data Sheet



| | |
| --- | --- |
| 0-1: | $2.77 |
| 1-25: | $2.51 |
| 25-50: | $2.14 |
| 50-100: | $1.74 |


MC9S08AC128MLKE

Freescale Semiconductor

8-bit Microcontrollers (MCU) 128K FLASH, 8K RAM

Data Sheet



| | |
| --- | --- |
| 0-1: | $3.25 |
| 1-25: | $3.06 |
| 25-100: | $1.91 |


MC9S08AC128MFGE

Freescale Semiconductor

8-bit Microcontrollers (MCU) 128K FLASH, 8K RAM

Data Sheet



| | |
| --- | --- |
| 0-1: | $3.00 |
| 1-25: | $2.83 |
| 25-100: | $1.77 |


MC9S08AC128MFUE

Freescale Semiconductor

8-bit Microcontrollers (MCU) 128K FLASH 8K RAM

Data Sheet



| | |
| --- | --- |
| 0-1: | $3.20 |
| 1-25: | $3.02 |
| 25-100: | $1.89 |