Product Summary
The OP484FSZ is a dual single-supply, 4 MHz bandwidth amplifier. It is guaranteed to operate from 3 V to 36 V (or ±1.5V to ±18V) and function with a single supply as low as 1.5V. The OP484FSZ is superb for single-supply applications requiring both ac and precision dc performance. The combination of bandwidth, low noise, and precision makes the device useful in a wide variety of applications, including filters and instrumentation. The applications of the OP484FSZ include Battery-powered instrumentation, Power supply control and protection, Telecom, DAC output amplifier, ADC input buffer.
Parametrics
OP484FSZ absolute maximum ratings: (1)Supply Voltage:±18 V ; (2)Input Voltage:±18 V ; (3)Differential Input Voltage:±0.6 V ; (4)Output Short-Circuit Duration to GND:Indefinite; (5)Storage Temperature Range P-Suffix, S-Suffix Packages:-65℃ to +150℃; (6)Operating Temperature Range:-40℃ to +125℃; (7)Junction Temperature Range P-Suffix, S-Suffix Packages:-65℃ to +150℃; (8)Lead Temperature(Soldering 60 sec):300℃.
Features
OP484FSZ features: (1)Single-supply operation ; (2)Wide bandwidth: 4 MHz ; (3)Low offset voltage: 65 μV ; (4)Unity-gain stable ; (5)High slew rate: 4.0 V/μs ; (6)Low noise: 3.9 nV/√Hz.

Diagrams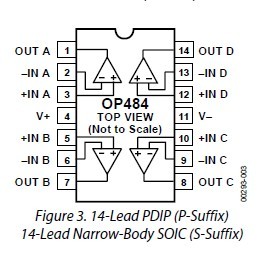 Image
Part No
Mfg
Description
Pricing
(USD)
Quantity

OP484FSZ



IC OPAMP GP R-R 4.25MHZ 14SOIC

Data Sheet



| | |
| --- | --- |
| 0-1: | $6.11 |
| 1-10: | $5.55 |
| 10-100: | $4.72 |
| 100-250: | $4.30 |
| 250-500: | $4.02 |
| 500-1000: | $3.70 |


OP484FSZ-REEL



IC OPAMP GP R-R 4.25MHZ 14SOIC

Data Sheet



OP484FSZ-REEL7



IC OPAMP GP R-R 4.25MHZ 14SOIC

Data Sheet



| | |
| --- | --- |
| 0-1: | $6.30 |
| 1-10: | $5.72 |
| 10-25: | $5.30 |
| 25-100: | $4.86 |
| 100-250: | $4.44 |
| 250-500: | $4.14 |