Product Summary
The top258pn is a enhanced ecosmart, integrated off-line switcher with advanced feature set and extended power range.
Parametrics
top258pn absolute maximum ratings: (1)Voltage monitor pin voltage: -0.3 V to 9 V; (2)Current limit pin voltage: -0.3 V to 4.5 V; (3)Multi-function pin voltage: -0.3 V to 9 V; (4)Frequency pin voltage: -0.3 V to 9 V; (5)Storage temperature: -65 ℃ to 150 ℃; (6)Operating junction temperature: -40 ℃ to 150 ℃; (7)Lead Temperature: 260 ℃; (8)Control voltage: -0.3 V to 9 V; (9)Control current: 100 mA.
Features
top258pn features: (1)Allows both primary and secondary sensing; (2)Line undervoltage (UV) detection prevents turn-off glitches; (3)Line overvoltage (OV) shutdown extends line surge limit; (4)Accurate programmable current limit; (5)Optimized line feed-forward for line ripple rejection; (6)132 kHz frequency (254Y-258Y and all E/L packages) reduces transformer and power supply size; (7)Half frequency option for video applications; (8)Frequency jittering reduces EMI fi lter cost.
Diagrams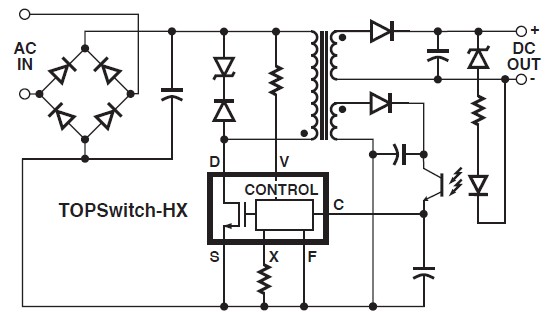 Image
Part No
Mfg
Description
Pricing
(USD)
Quantity

TOP258PN

Power Integrations

AC/DC Switching Converters Off-Line Switcher IC 35W/50W PK

Data Sheet



| | |
| --- | --- |
| 0-1: | $1.51 |
| 1-25: | $1.21 |
| 25-100: | $0.94 |
| 100-250: | $0.89 |

Image
Part No
Mfg
Description
Pricing
(USD)
Quantity

TOP200-14

Other



Data Sheet

Negotiable

TOP200-4

Other



Data Sheet

Negotiable

TOP200YAI

Power Integrations

AC/DC Switching Converters 5-12W 85-265 VAC 10-25W100/115/230VAC

Data Sheet

Negotiable

TOP200YN

Power Integrations

AC/DC Switching Converters 5-12W 85-265 VAC 10-25W100/115/230VAC

Data Sheet

Negotiable

TOP201YAI

Power Integrations

AC/DC Switching Converters 0-22W 85-265 VAC 20-45W100/115/230VAC

Data Sheet

Negotiable

TOP201YN

Power Integrations

AC/DC Switching Converters 0-22W 85-265 VAC 20-45W100/115/230VAC

Data Sheet

Negotiable